You may bleep when ready
LEGO is making products so amazing they have to censor how much their customers rave about them.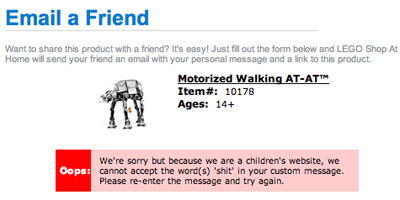 From a site-based e-mail to my wife that began "Holy shit!" and ended with some half-hearted rationale that we needed to buy this for our son for Christmas. (At least I'm self-consciously transparent, you know?)
Hi, I'm John Tolva!
I'm a co-founder of
Cityfi
, a strategic urban consultancy.
This is all my other stuff.
Here's
a little bit about me
and how to get in touch.
Marginalia
Road rage against robots, even if they are far, far safer than human drivers.

Would be difficult to write a headline more appealing to me than this.

"Talent is everywhere. Opportunity is not."

"Productivity dramatically decreases with longer work hours, and completely drops off once people reach 55 hours of work a week, to the point that, on average, someone working 70 hours in a week achieves no more than a colleague working 15 fewer hours."

Beautiful, simple, on point.

"Instead of choosing your own adventure, what if Netflix is choosing for you?"

A podcast. With me jabbering.

Aquaculture won't solve this problem. But enforcement will.

"To get a sense of the state of opportunity for women in architecture, consider that the firm getting the most high-profile architectural commissions in the world right now has just one female principal and this web address: big.dk."

Yes, let the Boomers have a semblance of control. With safety.
Recent Photos
Places Visited Recently
Recently Read
Categories
Archives